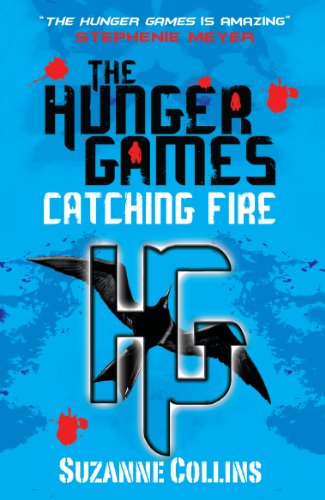 Even two years ago I was late to the party when I finally caved and read
The Hunger Games.
I'm quite a cynical reader, so not one who is prone to following hype. When I did finally get round to it, I was pleasantly surprised by the novel, but it didn't leave me in any rush to read the sequel. Obviously, since it's taken me two and a half years. Wait or no wait, reading
Catching Fire
was extremely underwhelming.
The novel begins where the first installment leaves off - it's no great spoiler that Katniss and Peeta both survive, especially thanks to pretending to be in love, which the audiences and sponsors have lapped up. However, their little charade doesn't end there, and they have to continue to act as though they are lovers as they do a victory tour around Panem. Katniss soon discovers that her little act of defiance (that there were two winners and not just one) has caused a wave of discontent through the Districts. There are murmurs of an uprising.
Before Katniss can really decide between running away and joining the resistance of the Capitol, she is called into yet another round of the Games. As it is the 75th year of the Games, the rules are different, meaning one male and one female victor must play again. So that's Peeta and Katniss, just nine months after they left for the first time. Back in the Games, the tactics are different, as is the end result.
Plotwise, fair enough. Although there was so much explanation quickly squeezed into a paragraph or two at the end of the novel, a clear lead on to the end of the trilogy,
Mockingjay.
I had to read over the last few pages several times because a lot of it didn't seem to make much sense and had the sense of being very rushed. The characters though? They drove me completely spare this time. In
The Hunger Games
, I liked Katniss, and found myself really gunning for her. In
Catching Fire
, I actually disliked her. And Peeta. The only character I did have much time for was Gale. He seemed to be the only character with any kind of dignity or sense of integrity. So what was wrong with Katniss?
The Gale vs Peeta thing, and her inflated ego. Not much of the novel actually takes place at the Games, most of it happening in District 12, where Katniss left behind Gale to pretend to be in love with Peeta. But who does she really love? Who loves her the most? This is in Katniss's headspace for the most part of the novel. She is constantly thinking about how very much in love Gale is with her, and Peeta too. She always guesses how they're going to react based on how desperately they love her. And wow, she's often right. They both just love her so so much that they'd both die for her, and she is constantly repeating this to herself. It is utterly nauseating, and she really needs to get a grip of herself. As the novel is told from Katniss's point of view, I couldn't tell if Collins was deliberately intending to make Katniss look completely daft and confused, or if it was just the writing itself. Poor Katniss, every time she makes a decision she has to consider how dreadfully awful the consequences would be, not for herself, but for Peeta and Gale beacuse it must be awful, because they love her so much. We get it. Get a grip.
So that drove me insane. And so did Peeta. Again, I wasn't sure if Collins was deliberately portaying Peeta in a certain way to throw readers off a scent, but what a wet blanket. Oh, Katniss you're so beautiful, oh Katniss I love you. Once more - get a grip. There seemed to be absolutely nothing to Peeta other than his love for Katniss, and that's very disappointing. I didn't much like him in
The Hunger Games
, but I definitely don't have much of a care for him now after reading
Catching Fire.
Bits I did like were - exploration of celebrity. That's what Katniss is now, and that's what she's struggling to deal with: how she should look, how she should act, what people expect of her now that she's so well-known and admired. That a nice bit of subtext. Also - conspiracy. The bubbling-under-the-surface resistance and the politics that I enjoyed in
The Hunger Games
came back a little bit here. In particular, there were some interesting comments on what the media choose to show, and what the media choose to hide or omit.
Largely, though,
Catching Fire
was a big disappointment. What I enjoyed about the first book seemed to take a complete U-turn here. I have
Mockingjay
on my shelf, so I'll probably read it eventually. One of my pupils revealed major spoilers in a book review he wrote, so I know how the trilogy will end, but I'm not particularly bothered by this anymore. I'll get round to it eventually, but it took two and a half years for me to pick up
Catching Fire
. If the second installment is anything to go by, it'll probably take just as long for me to get round to
Mockingjay.
Scholastic, 2009;
Paperback;
472 pages.