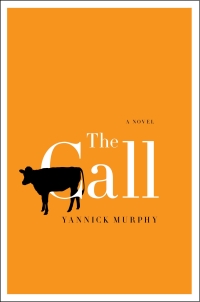 Sometimes a person will tell you the vague idea of a book and it either a) sounds so ridiculous that you can't believe it's even a story, or b) sounds a bit bizarre, but intriguing, and you hope that it'll be good so that it doesn't ruin expectations.
The Call
was b), and
The Call
was good.
There is a vet who lives in the middle of nowhere in a small town. He's a large animal doctor, and he lives in a pretty house with his wife, three kids, their two dogs, and a rabbit that wears nappies (or diapers, if that's your persuasion). So far, so kitsch. But his son is shot into a coma in a hunting accident, and the vet's life is on standby while he obsesses over who did it, and while he tries to figure out if the spaceship knows anything. Yes, the spaceship, and the spaceman inside it.
The book follows a What I Did:/What Happened After: script-like format that at first glance I worried would be quite stilted, but it actually read pretty quickly. David's telling of the story in this way gets rid of extra fluff, all those extra words that add word count but don't really do anything. What people do and say is there, and immediate, which probably accounts for reading the book so fast. As a person who loves adverbs and adjectives so much, I can honestly say that I really enjoyed this almost no nonsense approach.
Still, in all that direct access to David's thoughts, there are some beautiful examples of family relationships. Murphy makes each of his three children so real, each with their own little personality. And David's relationship with his wife is just so normal - good days, bad days, arguments, sex. The scenes at home with David and the family were perfectly real little slices of family life. It's so nice to read a book about families with all their imperfections, and to smile fondly because you recognise that that's what your family life is like, and that's how it should be like. All of this, and some descriptions of New England that make me really want to go.
I've never read anything by Murphy before (in fact, I'd never heard of her until Harper Perennial offered the book) but the lady has such a keen sense of the details in the way humans work and communicate that I'd be silly not to look into reading more.